East After Hours Urgent Care Center now open at 5640 Read Blvd
Building on the primary and preventative care services currently available at 5640 Read Boulevard, the East After Hours Urgent Care Center brings 24-hour medical care back to the community. Walk-in patients are received by urgent care and paramedic triage professionals that evaluate patient needs and refer them to the 5th floor urgent care center or to a local hospital. This facility is not an emergency room.
"Delivering a full service hospital to residents in New Orleans East has been a top priority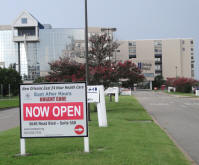 of my administration," said Mayor Landrieu. "The opening of urgent care services is one of many significant steps we have taken to make a full service hospital a reality. We need urgent care now as we keep pushing forward on the hospital so that a mother never again has to drive 30 minutes to find treatment for a child suffering from an asthma attack or in need of stitches. I commend the Hospital Service District Board for their dedication and will continue to work with them until we have a quality, full service hospital."

"I would like to thank our board, who has worked tirelessly to make this happen," said Ronnie Burns, Chairman of the Hospital Service District Board. "This paves the way for a first class hospital for the citizens of New Orleans East, the Lower Ninth Ward, and Gentilly. I look forward to continuing my work with the Mayor to restore a full service hospital for our community."

"Today, we mark another milestone in our progress towards opening a full service hospital," said Dr. Karen DeSalvo, the City's Health Commissioner. "We have been working with a singular focus towards our goal of a full service hospital because the residents in New Orleans East deserve no less. The urgent care facility is a first step towards this and will provide vital services that the community desperately needs."

"The opening of an urgent care facility at Methodist Hospital site is an important step in meeting the medical needs of the citizens of New Orleans East," said District E Councilman Jon Johnson. "I applaud all of the parties involved in making this urgent care facility a reality, the Hospital Service District, the Landrieu Administration, the City Council, Franciscan Missionaries of Our Lady Health System, and Daughters of Charity Services of New Orleans, for fulfilling the promise of an urgent care facility at the former Methodist Hospital site by the end of this month. This opening is the result of countless hours of hard work and will provide significantly needed medical services to our community. My number one priority as Councilman for District E remains the opening of a full service hospital facility in New Orleans East, and we will not rest until this goal is accomplished."
Medicare, Medicaid and commercial insurances are be accepted, and a financial assistance program is available for uninsured individuals. Professional staff are available to conduct patient consultations and distribute information regarding new Medicare and Medicaid laws, regulations and eligibility requirements.
Website: http://www.hsdeast.org/